2D & 3D Game Truck Theater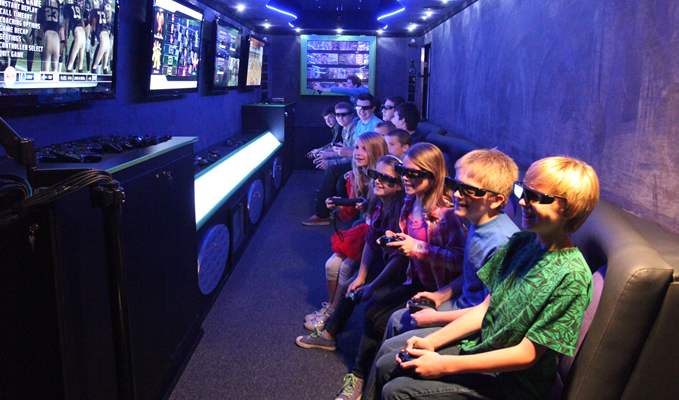 Our new 3D Game Truck Theater is so unbelievable that we have to rename it a Game Theater to do it justice! Step into our game truck theater and experience RGB lighting and custom seats equipped with seat rumblers that vibrate to the sound of the game being played. Relax in our self contained air conditioned limousine style interior that has Playstation emblems as ceiling mirrors to create an overall experience like no other game truck, or play a wide variety of the most popular video games on one of our large inside the theaters 50" HDTV's. We even have optional 3D TV's to experience gaming in a whole new way. Test out your skills with Rockband, Guitar Hero or the Beatles on our optional interactive rock band stage that 4 additional players can perform on or add additional players on one of our two optional outside TV's and play Just Dance or Michael Jacksons Experience. Our outside TV's offers that perfect dancing experience so your guests are confined to inside a trailer and comes with an 18' shade awning. If you are looking for the best Game Truck Theater in San Diego look no further, our theater is unmatched in quality, features and options in the industry and can entertain up to 28 gamers at one time.
Pricing Packages: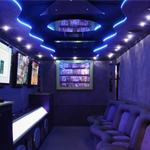 2 Hour Birthday Party Experience
Experience the ultimate Video Game Truck Theater Party for up to 14 players using our 7 inside HDTV's. Due to COVID 19 we are currently not conducting large events or gatherings. Our max capacity right now is 14 gamerz across the 7 HDTVs.
$425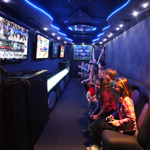 Mid Week Special
This is the same party as our weekend experience but at a discounted mid week special price.
$375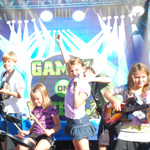 Interactive Rock Band Stage
Capable of entertaining 4 additional players our interactive rock stage is usually the big hit of the party as we drop down our rear door and set up guard rails an extra TV, 2 guitars, microphone and drum set. Play Guitar Hero in front of your family and friends and feel like a Rock Star!
FREE
Our 3 HUGE Mobile Video Gaming Vehicles Include:
4 - 55" 1080p 3D HD LCD TV's - Inside
2 - 46" 1080p HD LCD TV
43" TV On Our Interactive Rock Band Stage w/ Awning
Featuring the PS5, XBOX X and Nintendo Switch
Guitar Hero World Tour Special Edition Band Kit
Surround sound speaker systems for each TV
10 Rockford Fosgate "Seat Rumblers" - Embedded in our seating area
DirecTV Capability
Video Monitoring Capability
3D Blu-ray & DVD capability on 4 Screens Simultaneously for Movie Night
Up to 28 gamerz can play simultaneously using all 7 high definition televisions!