2D & 3D Game Truck Theater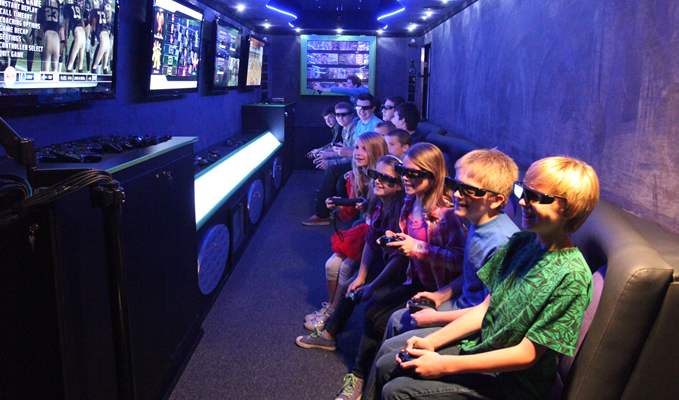 Gamez on Wheelz Orange County now offers 2 Game Trucks (24′ and 16′) with multiple options and features in each! Whether you are looking for the most luxurious and largest Game Truck in Orange County or a smaller Game Truck due to space limitations and/or the number of guests – we have both! We also offer combo parties with our Laser Tag, Outdoor Movies, Photo Booths, Park Gamez and/or Maui Shave Ice. You will find that our GameMasters are well trained and the best in the business. They will look and dress professionally and interact with "kids" of all ages!

(Can accommodate up to 28 players)


Our 24′ Game Truck is still the most luxurious Game Truck in Orange County with seat rumblers under each seat, overhead directional speakers that enhance the sound, an outside parent TV viewing monitor so you can see what is going on inside, custom leather and soft fabric seating bench, extra tall ceilings to avoid that cave like claustrophobic feeling, an electric awning that offers shade to our optional multiple outside TV's and Orange County's only Interactive Rock Stage!
Specifics include:
(4) 47″ HDTVs on the inside
Up to 16 players on the inside
Custom limo style seating!
Gaming consoles: x6 Xbox 360, x5 Nintendo Wii, (x1 PS4, x1 Xbox One, x1 WiiU)
Limo style interior like no other – our pictures tell the story!
Fully self contained with "back up" plug in option if necessary
Multiple air conditioner units
An 18′ awning to give added comfort to those playing outside
High ceilings with LED light shows
Directional overhead speakers for better sound and gaming experience
RGB LED lighting
Custom cabinets – roomy interior
Advanced switching system that allows us to play any gaming console to any TV or play a "team" video throughout all the TV's at once!
Truck & trailer dimensions – 50′ L x 11′ W x 12′ H
OPTIONAL: (2) 47′ Outside HDTVs

Use our outside TV's to play "Just Dance" or other video games when you invite more guests (Up to 8 additional players)
18′ shade awning

OPTIONAL: Interactive Rock Stage

When you want to have an experience that no one else has or you just need to entertain more guests, our rock stage is always the biggest hit at each party.
Up to 4 players can rock out on our outside stage at one time!
Includes 2 guitars, 1 drum set and 1 microphone
For a list of the video games in our 24′ Video Game Truck, click here!
24′ Trailer – Inside
Two Hour Party Experience Experience the ultimate video gaming experience as you play all the latest video games in our comfortable and roomy limo style theater.

 

24′ Trailer – Outside
Optional Outside TVs – $50 per TVUnderneath the shade of our 18′  awning, guests will be able to play more interactive games. Grab all your friends and family and "Just Dance" or hit the golf course or bowling alley with "Wii Sports Resort". It gives all your guests, neighbors and family a chance to not only watch and be entertained but better yet most join in after seeing how much fun it is.

x2 Outside TVs capable of playing Xbox360 or Nintendo Wii Games

Optional – Interactive Rock Stage (24′ Trailer) Looking for that one of a kind experience? Our interactive rock stage is capable of entertaining 4 additional players. We drop down our rear stage door and setup our radical Interactive Rock Stage! This includes:

Guard Rails
32″ HDTV
x2 Guitars
x1 Microphone
x1 Drum Set
Shade awning available

Bring out your inner Rock Star and jam in front of your family and friends! Be sure to bring your camera for this memorable experience!

(Can accommodate up to 18 players)

Our 16′ Game Truck comes equipped with 3 inside 3D TV's and 2 outside TV's. This trailer works well when there is limited street parking or when you want a more intimate party experience with fewer guests on the inside. It is often used for our combo Laser/Gamez ultimate party or our combo Gamez/Movie Night events.
However,  don't under estimate its size it can still entertain up to 18 players at one time (10 inside, 8 outside) and it adds a component that brings gaming to a hole new experience with all three inside TV's having the capability to convert any 2D video game into a 3D gaming experience.
Features include:
(1) 47″ & (2) 42″ Inside 3D HDTVs

Optional 3D Gaming: All 3 inside TV's can convert any standard 2D video game and play it in 3D for that ultimate gaming experience ($35.00 option)

(2) 42″ Outside HDTVs included (with amplified sound)

Give your guests plenty of room to dance on our outside TV's under our 12′ shade awning

5.1 surround sound in two separate rooms
Consoles include: x4 Xbox 360, x3 Nintendo Wii, x1 PS3 & all the latest games
Full contained but "plug in" option if necessary
Air conditioned
Outside 12′ shade awning for player comfort
RGB LED lighting
Truck & trailer dimensions – 40′ L x 11′ W x 11′ H
This Game Truck is pulled with our Harley Davidson F150 Ford Truck!
Optional: 135″ side of trailer screen for gaming or movie night combo
For a list of the video games in our 16′ Video Game Truck, click here!
16′ Trailer – Inside

Two Hour Party ExperienceExperience the ultimate Video Game Truck Party in our 16′ Game Truck (Can accommodate to 18 players).

Play all of the latest and greatest games in our high class Video Game Theater.

16′ Trailer – Outside
Included 2 Outside TVsUnderneath the shade of our 12′  awning, guests will be able to play more interactive games. Grab all your friends and family and "Just Dance" or hit the golf course with "Wii Sports Resort". Your family and friends will want to join in after hearing our amplified outdoor speakers!

x2 Outside TVs capable of playing Xbox 360 and Nintendo Wii Games

Optional – 3D Experience (16′ Trailer)

Experience a whole new way of playing video games with our three 3D enabled TV's as your guests get to play any video game in 3D. With our 3D TV's we can convert any 2D game into a 3D experience!
A non-refundable deposit is required to confirm and finalize your event's date and time.
Click here for details on our Combo Party packages where we can bring additional entertainment with our Game Trucks including Laser Tag, Outdoor Movie Nights, Shave Ice and more!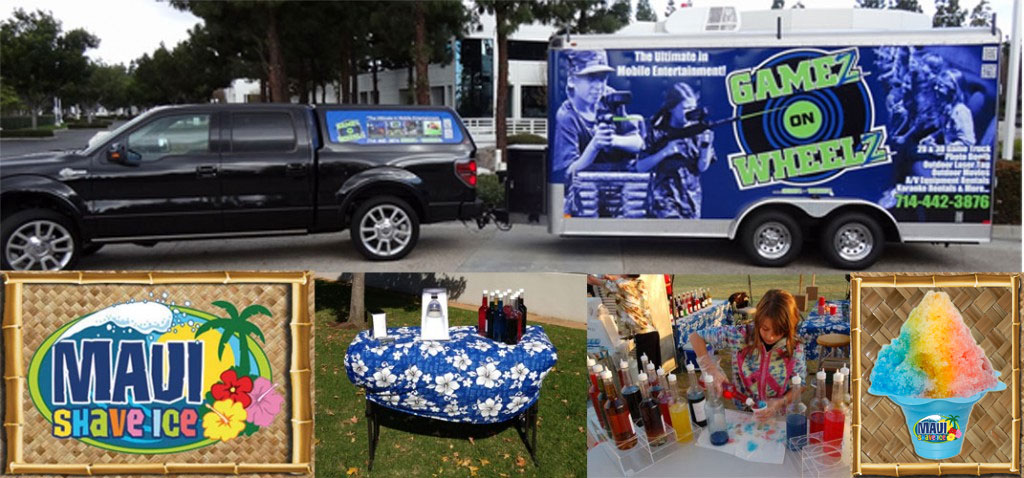 Add our great tasting Maui Shave Ice treat to any GOW party for just $99.00. At the conclusion of an exciting Gamez on Wheelz party our GameMaster will serve your guests Shave Ice! We will serve up to 25 guests with a selection of our top 12 flavors.
Small Shave Ice Shaver
12 Mouth Watering Syrups
Ice
8 oz serving cups
15-20 minutes of serving time
1 Gamez on Wheelz Staff Member
*Add $3.00 per serving with more than 25 guests
ONLY $99!
For more information on Maui Shave Ice, click here.

Click here to order Gamez on Wheelz Themed
Invitations, Party Favors and more!
Game Theatre Invitation Postcards 

 

Glow in the Dark Silicone Wristbands 
Gamez on Wheelz Pens

 

COMBO Invitation Postcards 
Pre-Packaged Party Favors

Thank You Cards with Envelopes
Gamez on Wheelz T-Shirt
Pre-Packaged Party Favors