2D & 3D Game Truck Theater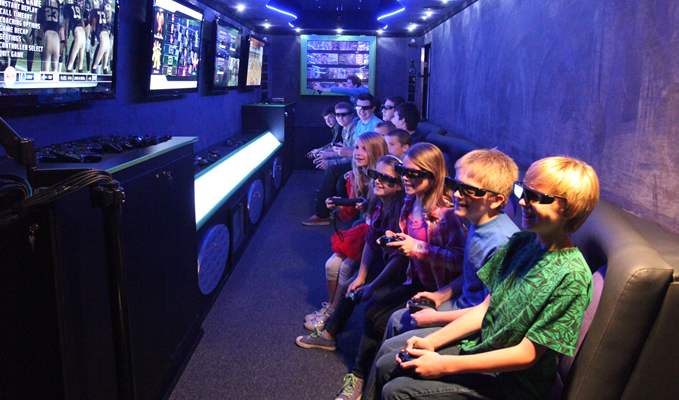 We are a local business serving all cities in the Phoenix AZ Metro Valley including Scottsdale, Chandler, Peoria, Mesa, Gilbert, Glendale, Deer Valley, Paradise Valley and everywhere in between.
Our Game Truck Theater is packed with the latest in consoles and games! When you step into our game truck theater you will get to experience the custom seats equipped with seat rumblers that vibrate to the sound of the game being played. Each of our 4 Game Trucks are air conditioned with a limousine-style interior for you to relax and get your game on. With our immersive 2D and 3D gaming you will have an experience far beyond any other game truck. Each of the state of the art game trucks come equipped to play a wide variety of the best multiplayer games on one of our large 47" HDTV's. Each Game truck has optional 3D TV's to to take you to next of level gaming. In Game Truck #4 you can elevate the party with 8 additional players on our optional outside TV's complete with awning if needed. Our outside TVs offer that perfect dancing experience so your guests aren't confined to inside a trailer and can spread out to really shake it. If you are looking for the best Game Truck Theater in Arizona look no further, our truck is unmatched in quality, features and options in the industry and can entertain up to 28 gamers at one time.