Gamez on Wheelz Franchise
Two Distinct Brands – One Company

Welcome to Mobile Party Concepts, LLC. We are the Franchisor for both Gamez on Wheelz and Glamour on Wheels brands. We are excited to bring the very best in mobile entertainment to our franchisees that in turn bring our products to the consumers and people just like you. Our company strives for perfection with each new product that we launch and being sure our Franchisees receive exceptional value for their investment. We know there are several competitors and we encourage you to contact each of them first so that you will be able to compare the overall value, royalty fees, initial franchise fees and the variety of product choices. We know that there is no other company that can offer you a greater return in this business then Gamez on Wheelz. For more information on becoming a franchise visit our website: www.mobilepartyconcepts.com or browse our Gamezonwheelz.com website that you are on now.
Mobile Party Concepts (Franchisor) offers two distinct brands;
Gamez on Wheelz focuses on the mobile video game theater experience, and
Glamour on Wheels caters to the ultimate Glamour experience for girls ages 5-14.
Our trailers offer the highest quality entertainment on Wheels in the industry. The adventure begins when our limo style theaters roll up to the hosts doorstep, park, or community town halls and offers parents, community organizers and business owners an exciting and inexpensive party on wheels! We are confident that once you view our luxury theaters, pricing module, operating systems, franchise support and low monthly royalty fees you will agree that our model makes the most sense in the industry because it puts more money back into your pocket. We look forward to speaking to you more about this great franchise opportunity. Thank you for considering a Mobile Party Concepts franchise.
Our Mission: To provide a unique and fun mobile party entertainment incorporating the ultimate experience for our customers.
Gamez on Wheelz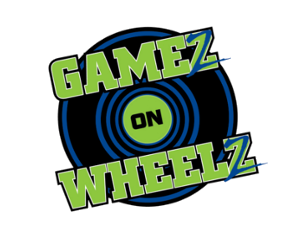 Gamez on Wheelz offers a limo style video game theater experience that is guaranteed to have kids and parents clamoring for more. Imagine yourself owning a theater that offers 4 – 47″ LCD TV's inside, limo style puck lights, custom Playstation designed ceiling mirrors, a custom seating bench with seat rumblers underneath you that "rumble" while you play for an experience like no others offer! In addition, we offer an industry first outside interactive concert rock stage with a 32″ LCD TV to play Rockband, Beatles, Guitar Hero, Karaoke or connect a PA system to for those customers who want to play like a rock star!
Glamour on Wheels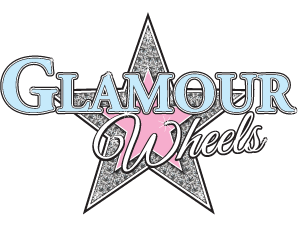 Glamour on Wheels offers every girl the opportunity to be a star for the day. Get your hair and make-up done in our "Glamour Star Beauty Chairs", play video games inside the theater on our 47″ LCD TV or rehearse for the big show. Make a craft in our unique "Craft Center" for up to ten quests as you can choose from a variety of fun craft projects. Wear your Backstage passes as you move around the theater getting ready for the big show. Then get ready to be a rock star as you hit our outdoor stage equipped with Guitar Hero, Rock Band and the Beatles that includes a light show with fog effects. Enjoy playing in front of your family and friends as your parents take pictures.
Along with our climate controlled trailers a "GameMaster" or "Glamour Girl" party coach provides supervision and assistance and the kids have the time of their lives.
Whether you are buying our "Gamez on Wheelz" theater and/or our "Glamour on Wheels" theater you will find a host of options and features that no other game truck offers including our unique interactive outside rock stage, large list of additional features, our proven system and strong business model. Owning one of our franchises will be not only fun and exciting but easy, rewarding and profitable.
Park Gamez
With the purchase of either brand, Mobile Party Concepts has added several new revenue enhancers that gives your new franchise the ability to add additional products to your franchise territory customers without any added upfront fees.
Mobile Outdoor/Indoor Laser Tag: Our outdoor/indoor laser tag party offers the perfect combination of convenience, fun and exercise for your customers and compliments the video game truck tremendously. We have created a series of Mobile Outdoor Laser Tag Battlefield set ups, strategies, missions and marketing material that will have you up and running in less than 4 weeks. Imagine the revenue opportunity that you can earn by adding this new product and bringing your clients their own battlefield into their backyards, neighborhood parks or their businesses.
Outdoor MOVIES: Why not add our outdoor movie packages to your Gamez on Glamour franchise and begin earning additional revenue. Turn your existing customers' backyards into outdoor cinema theaters and watch movies, family videos, slides, or play video games on one of our huge outdoor movie screens under the stars! Outdoor Movie Night Events are perfect for family get togethers, neighborhood block parties, church outings, birthday parties, graduations, anniversaries, Bar/Bat Mitzvahs, community celebrations, team parties, schools or swimming pools. We offer a variety of packages that include an 8', 12' or 21' big screens with a variety of different sound systems all packaged with your budget in mind.
OPEN AIR PHOTO/VIDEO BOOTH: Gamez on Wheelz now offers our franchisees a new "Open Air Photo/Video Booth Lounge" that was developed to service a need for an ultra-compact and versatile event photo/video booth. Our booth works with or without the drapes!
Whether your clients are planning a wedding, party or event our new Open Air Photo Booth now integrates a Video Booth feature into our standard booth. The options for seating and backdrops used with the Open Air Photo/Video booth are limitless and we can have you up and running within just a few weeks.
Owning a Franchise – What you should expect?
Our company takes the stress out of party planning and provides an affordable party solution that makes renting one of our Gamez or Glamour theater parties a breeze for parents. Imagine being the "life" of every party as you cruise from event to event in an awesome custom limo designed theater. Selling parties over our competition becomes a breeze since the product sells itself and the kids/parents request it over all other game trucks! Our theaters leave new and repeat customers always wanting more and word of mouth becomes our best form of advertising. Own an Office on Wheels!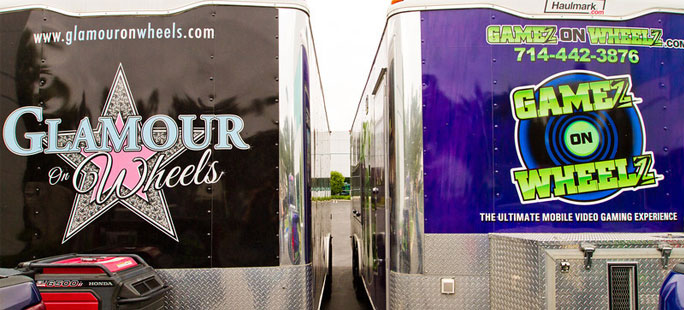 A Mobile Party Concepts franchise was designed with quality of life in mind for every owner seeking to be an entrepreneur. We offer a low upfront start up investment, low royalty fees, complete package of promotional products, customer web store, large list of marketing collateral material, company branded website with each franchisees own unique web page, designated protected territories and a business with minimal employees if any at all to make you successful. Work your own hours; the trailers sell themselves which makes attracting new customers a breeze. We are looking for business owners who have a desire and passion to make people happy, enjoy working with kids and parents, and have a FUN outgoing personality.
A Mobile Party Concepts franchise can be launched in less than 120 days, are easy to operate and requires little training and a small initial investment. We supply you with all types of support and walk you through each phase of your new business including assisting you with:
Helping you start your business and form an LLC
Detail business plan included
Assistance in getting an SBA loan/financing
Assistance with choosing which business model (theater) will be best for you and which features and options will help make your trailer rewarding, profitable and fun at the same time
We offer a comprehensive operation manual, training at our headquarters, marketing and technical support and a robust web site featuring online custom ordering for party invitations, thank you cards, party favors and a complete line of promotional products.
We offer some of the lowest franchise and royalty fee structures for game trucks in the industry. We want you to be successful and we know that to do that we need to keep the fees low.
How many "Inflatable's" and "Pizza Parlor" parties have you gone to in your life? Isn't it time that we bring the party to the customer's and make it fun, easy for the host, and entertaining for all? Currently, 68% of all Americans play video games and those over 5 years old spend an average of $98.60 on games each month and account for an amazing $21 Billion a year industry. The video game industry projects exponential growth over the next 10 years. That's a massive and very active target market to build a business on.
In addition to our trailers, we will eventually offer a wide variety of additional revenue generators that may include outdoor games or additional products like Cannon Candy Rocket Launcher and/or Human Hamster Rolling Balls.
Pre-Trailer Arrival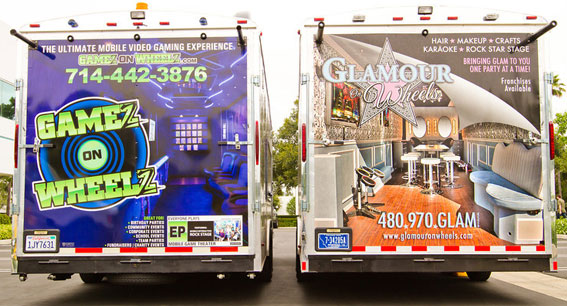 Once your territory has been selected, we understand the importance of getting your trailer parties booked early so you can hit the ground running. We put you in touch with our pre-opening development team that helps you identify which marketing efforts will help drive the most sales! We offer a website that each franchisee is able to order all their marketing materials online. Our system offers instant online proofing and fast delivery times for all their printing needs. Most orders ship within just 1-5 business days. Order business cards, flyers, door hangers, custom Gamez on Wheelz or Glamour on Wheels wristbands, posters, inserts, postcards, etc. online from the convenience of your home! Then have your customers order through our Gamez on Wheelz web store for party invitations, thank you cards and gift bags/party favors, hats, visors and T-Shirts.
Comprehensive Training and Education
We will provide you with several days of training with our owner and support staff to be sure you're not only comfortable with running your own theater but also that your percentage of success increases and is maximized after working with our team. Our training program is so comprehensive that no prior experience operating a Mobile Party Concepts franchise is required. You will receive a copy of our Operations Manual, Marketing Manual, HR Manual, professionally designed marketing collateral materials and our website.
Your Mobile Party Concepts franchise includes:
Specific product branding
Extensive pre-training in Scottsdale, Arizona that includes classroom and live events, training from experts, techs, gamers, drivers, marketing experts and the founders
Customized local marketing plan and grand opening support
Detailed operations manual including a complete HR manual and new hiring program
Custom franchisee specific web page for each territory that links to our home page
An online web store for customers needing to order their invitations, thank you cards, party favors and promotional products
On-going support with frequent consultation and communication of best practices and new product innovations
Constant company R&D, new product development and product and game enhancements
Professionally designed collateral materials including flyers, brochures, posters, door hangers, mailers, ad campaigns, cards and letterhead, shirts and wristbands and an array of logo items and promotional pieces
Social network marketing and Web Marketing campaign strategies that place each local franchisee towards the top of all free searches. Additional Keyword strategies for Google and Yahoo ad campaigns
Advertising, Marketing and Street Promotions
As evidenced in our website design and promotional materials, Mobile Party Concepts takes great pride in our brand and we employ some of the best strategic marketing and programming professionals in the nation to protect and promote it.
GamezonWheelz.com and GlamouronWheels.com – website addresses
Over-sized, highly visible, fully branded trailers and custom vehicle wraps that attract attention
Search Engine Optimization and Search Engine Marketing Tools that work!
Social Networking strategies for: Facebook, Twitter, Myspace and Craigslist
Sophisticated back-end systems for booking, reports, and various management tools options
High-end marketing materials with online ordering and quick delivery times for: Personalized business cards, Letterhead, Envelopes, Rack cards, Direct mailers, Door hangars, Posters, Flyers, Wristbands
School promotions and other fundraising ideas and programs
Public relations ideas, blogs and white paper articles
Best form of advertising: Word of mouth from your happy and satisfied customers
We provide daily support before, during, and after training, with our dedicated franchise support staff team. We look forward to working with you.