Current Specials:
Orange County, CA


Great event for my son's 8th birthday party! Thanks for a great time - Everybody raved about how cool it was and my son was in "shock and awe" over how cool it was and this is a party we'll be talking about for awhile! Thanks Gamez on Wheelz for the best 8th birthday party ever! - Ken Smith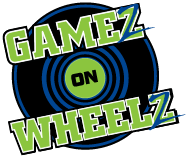 The new Orange County Gamez on Wheelz no longer offers Game Trucks, Photo Booths or Maui Shave Ice.
We have decided to focus and improve our core products bringing you the very best mobile entertainment for Outdoor/Indoor Laser Tag and Outdoor Movies. In addition, we will continue to rent Water Tag, Karaoke and Park Gamez as pick up options.
Whether you're planning a birthday party, holiday party, company part, community, church, or school event or if you are feeling in the mood to have a fun party to entertain your guests, Gamez on Wheelz is the right choice for that fun and enjoyable entertainment option.
Gamez on Wheelz are franchise owned businesses operating independently by territory. To see what products the franchise in your area is currently offering use our "Get Pricing in Your Area" box above and select the city or county nearest you.