We had a great laser tag party for our 11 year old son's birthday this weekend. Gamez on Wheelz was awesome-especially the Game Master. The boys all had such a good time. I highly recommend Gamez on Wheelz for your child's party activities, boys and girls! - Stephine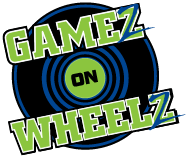 Gamez on Wheelz now offers a variety of mobile entertainment that will keep you and your guests entertained at your house, office, park or any other location of your choice. We come to you with the industry's leading Video Game Truck Theater, Outdoor Laser Tag, Glamour on Wheels Girl Party Experience, Large Screen Outdoor Movies, Open Air Photo and/or Video Booths and so much more.
Whether you're planning a birthday party, community or school event, company party, wedding or other party or event that you would like to entertain your guests, Gamez on Wheelz is the right choice for that perfect entertainment option.
Gamez on Wheelz are franchise owned businesses operating independently by territory. To see what products the franchise in your area is currently offering use our "Get Pricing in Your Area" box above and select the city or county nearest you.