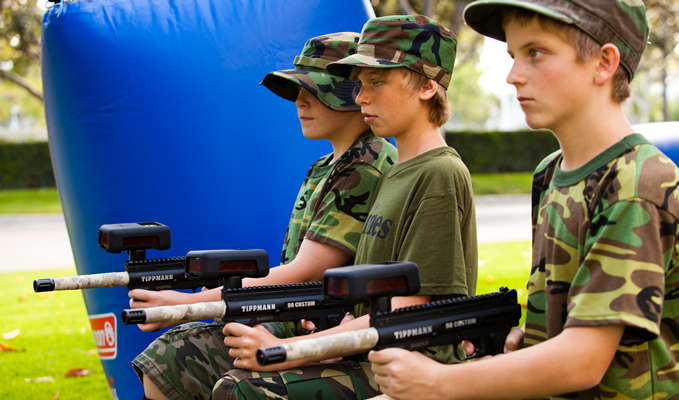 Our Outdoor/Indoor MOBILE Laser Tag Party packages offer the perfect combination of convenience, excitement, and competition, while keeping guests active. Great for all ages (7+), We come to you!
Imagine a battlefield filled with camo & inflatable bunkers in your own backyard, local park, school, fundraiser, event or business and you didn't have to lift a finger! We do it all for you.
All of our laser tag guns are state of the art with the most updated software. They are the lightest weight guns on the market today and require NO headbands! (Which means NO "lice" issues). Our "Commanding Officer" will setup battles and enforce fair play and good sportsmanship. Are YOU ready for battle?
We offer several packages and pricing strategies based on the number of players, bunkers, time and location. A non-refundable deposit of $150 is required to confirm and finalize your event's date and time, we operate on a first paid booking system which will hold your date.
Laser Tag Battlefield Details:
Setup time for most battlefields varies from 30 to 45 minutes. Battlefield areas further than 150 feet from our parked vehicle location will incur an additional setup time and surcharge. For the best playing experience we suggest a maximum of 16 players on a battlefield the minimum size of a grade school basketball court (approximately 60 ft x 30 ft). Our Commanding Officer will determine the appropriate amount of camo bunkers and/or inflatable obstacles to be placed on the battlefield with the area given. Natural surroundings are the best to use and helps enhance the experience. We recommend an age of 8 years or older to play, 7-year-old children will require adult participation to assist younger participants. (Sorry 6 and under are not allowed to play). For any party package you must have the appropriate number of guns for the guests at your party, no one likes to be left out rotating players.
Pricing Packages:
Urban Warfare
1.5 Hours
10 Bunkers
10 Laser Guns
$325
Battlefield Warfare
2 Hours
12 Bunkers
12 Laser Guns
$365
Modern Warfare
2 Hours
14 Bunkers
14 Laser Guns
$395
Special Ops
2 Hours
16 Bunkers
16 Laser Guns
Background Music (included)
Giant Inflatable Tank (included)
Fog Machine (included)
$485
A power supply is required and must be within 50 feet of our command center set up. If power isn't available you will need to rent one of our generators at $25/event. This generator can only be used to provide power for the laser tag equipment.
We are available for events such as: Birthday Parties, School Events, Church Groups, Oktoberfests, Graduation Parties, Fundraisers, Family Reunions, Corporate Team Building, Staff Rewards, Bachelor Parties, Picnics, Summer programs, Youth Groups, Major Events and more.